NTJC Go Topless 2019 T-Shirts, Tanks and Muscle Shirts!!!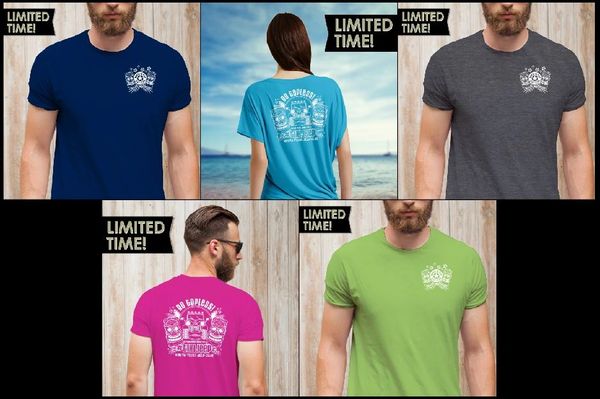 Go Topless Shirts will begin shipping on May 7th.
Premium Shirts and Tanks are Bella Canvas

Standard Tshirts are Available in Sizes S-5XL (True to Size)
Standard Tanks are Available in Sizes XS-3XL (True to Size)
Premium Bella Canvas T-Shirts are Available in Sizes XS-4XL (runs a little small)
Premium Bellas Canvas Tanks are Available in Sizes XS-2XL (runs a little small)
Muscle Shirts only comes in size XS - 2XL, if you chose a different size you will receive a tshirt or tank instead at our discretion
If ordering in Charcoal Heather, the Shade of Gray may be slightly Different depending on the Brand you Choose.
Print Colors may vary slightly from the pictures above depending on your screens settings.
If ordering after 3PM on May 7th we can not guarantee delivery before May 15th
If you order a size in an option that is not listed above we will do our best to get you something similar in that size.
For the best longevity of you NTJC Gear, always turn the shirt inside out, wash on cold and air dry.

*This is a Limited Edition Print, so don't wait or else they might all be gone!!!